0

How to Edit a Bot or Drip from the Web Browser of Your Phone
Overview
Here's a helpful article on how to update a bot or a drip campaign from your phone. Please note that bots and drip campaigns cannot be edited in the mobile app. You will need to go to your web browser to update it from your phone.
---
How to Edit a Bot from the Web Browser of Your Mobile Phone
Go to our website shout.app from the web browser on your phone
Tap on the menu icon
Tap on the . . . next to the name of the bot you want to edit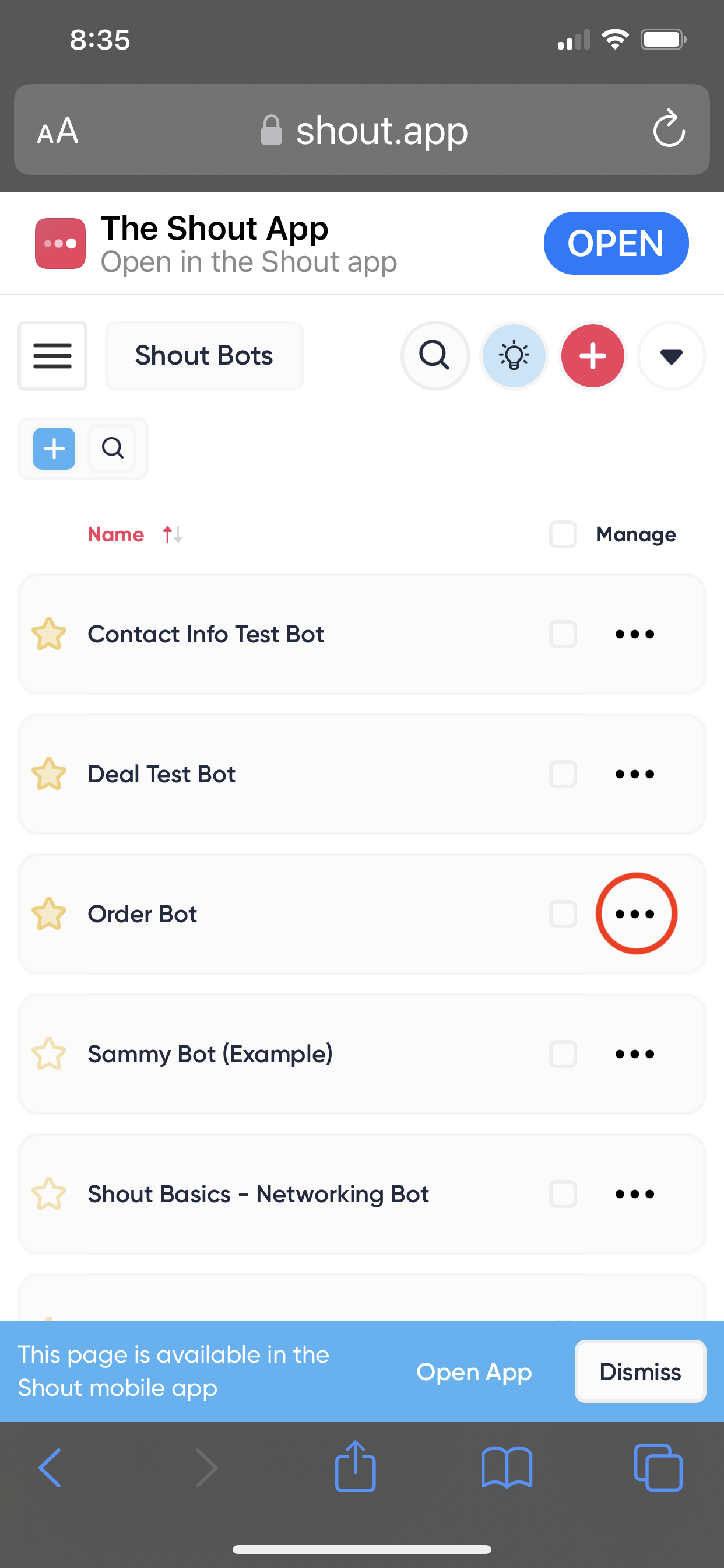 From the drop down menu, tap on Edit
From this menu you can also duplicate, un-favorite, pause, rename, preview, run a bot, or delete a bot.
Check the Bot Status by clicking on the menu icon
Tap on Active to make sure your bot is turned on. If your Bot Status says Pause, trigger words will not work on your bot.
Edit the name of the bot
Edit the bot description
Select Services: Check the box next to one or more services you want to use this bot with.
This example bot is an order bot, so you can utilize text messaging through your Customer Service Number or Marketing Number to collect orders. You can also use Shout to Shout, Facebook, or Instagram with this bot.
You will need to connect Facebook and Instagram to Shout, in order to send the bot via those services.
Click here for a tutorial on how to connect Facebook to Shout.
Click here for a tutorial on how to connect Instagram to Shout.
Add additional trigger words by typing in a word and clicking Add Trigger Word
Delete trigger words by clicking on the trash can icon
Trigger words for bots and drip campaigns are not case sensitive, and if you have two of the same trigger word, it won't let you use the bot (ex. VIP and vip).
In order to fix this, delete all of the trigger words, save, and then add back one version of the trigger word (ex. vip).
Add actions by clicking Add Action and selecting an action
Delete actions by tapping on the . . . next to the action and tapping Delete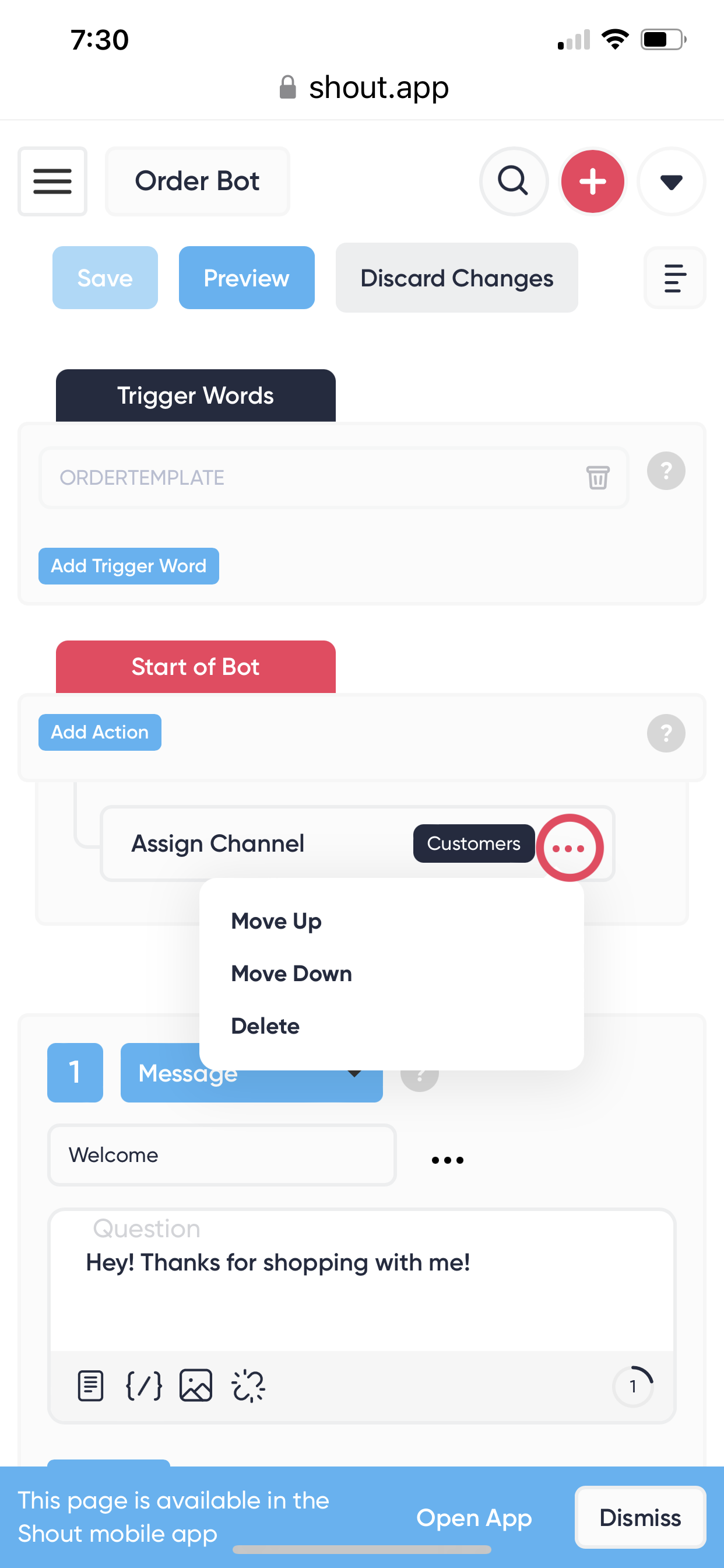 Customize each message in the bot to fit your needs
Tap on Save to save the changes made to the bot
Go back to the Shout app to use your edited bot
---
How to Edit a Drip Campaign From the Web Browser of Your Phone
You will follow the same steps as for bots, aside from clicking on drips instead of bots.
We recommend setting the drip campaign to send each message a few minutes apart minimum. This makes sure all of your messages send in order. If you set up all the messages to send immediately, they will be sent out of order.
You can choose to send your drip campaign messages days apart. This is great, for following up after an order. You can also invite your customer to become a VIP customer.
Troubleshooting Tips:

Common issues that occur when saving a bot or a drip campaign, are duplicate trigger words. You can only use a trigger word once, on either one bot or one drip campaign. If you accidentally reuse a trigger word and try to save, you will receive an error message.
Tap on the Trash Can icon to delete a duplicate trigger word.
Tap Save to save the changes made to the drip campaign or bot.
Was this article helpful?
Follow